At the Delray Beach Open by VITACOST.com on Wednesday, just after 5:00 pm, 29-year-old Neal Skupski was on Court 1 hitting serves just minutes after reaching the doubles semi-finals. Recording those serves was his brother and partner, 35-year-old Ken Skupski.
"He didn't feel comfortable on his serve [during the match]. Other players might be thinking, 'Oh, he doesn't serve well enough. I'm going to potentially look for someone who can serve better to help get me to that next level'," Ken said. "I don't see it like that. My idea is that he's always going to be my partner. He's the person who I will always play with… I'm always looking for my brother to do the best he possibly can. And he's always asking for me to be the best I can be."
As the Skupski brothers spoke to ATPTour.com later in the evening in the Delray Beach players' lounge, Bob Bryan and Mike Bryan sat 10 metres away, preparing for a match of their own. The 40-year-old Bryan brothers have lifted 116 tour-level trophies together, and finished No. 1 in the year-end ATP Doubles Team Rankings 10 times.
In some ways, the sibling pairings are similar: the Bryans (Stanford) and the Skupskis (LSU) all attended college, and each team has a righty and a lefty. But in other ways, they're different.
When Ken graduated from LSU and began his efforts on the professional circuit, there would still be another year before Neal would start studying at university. While the Bryans have competed together throughout their lives, it took until Ken was 30 and Neal was 23 for the Brits to compete alongside one another on the ATP Challenger Tour. Sure, Ken knocked around balls with his brother when they were younger, but just for fun.
In fact, Neal was only a sophomore at LSU when Ken captured his first two ATP Tour titles (w/Colin Fleming). They are playing with one another as professionals for the 136th time this week in Delray Beach.
"You've grown up looking at the Bryan Brothers. They've had unbelievable success playing doubles together. Obviously the best of all-time. It was tough at first [for us]," Neal said. "Ken is six years older than me and he took on the role of being the leader of the team, sort of the coach, too, because we didn't have a coach at the time."
The Skupskis have found success over the past couple of years. In 2018 alone, they won their first team ATP Tour title in Montpellier, and reached two additional finals.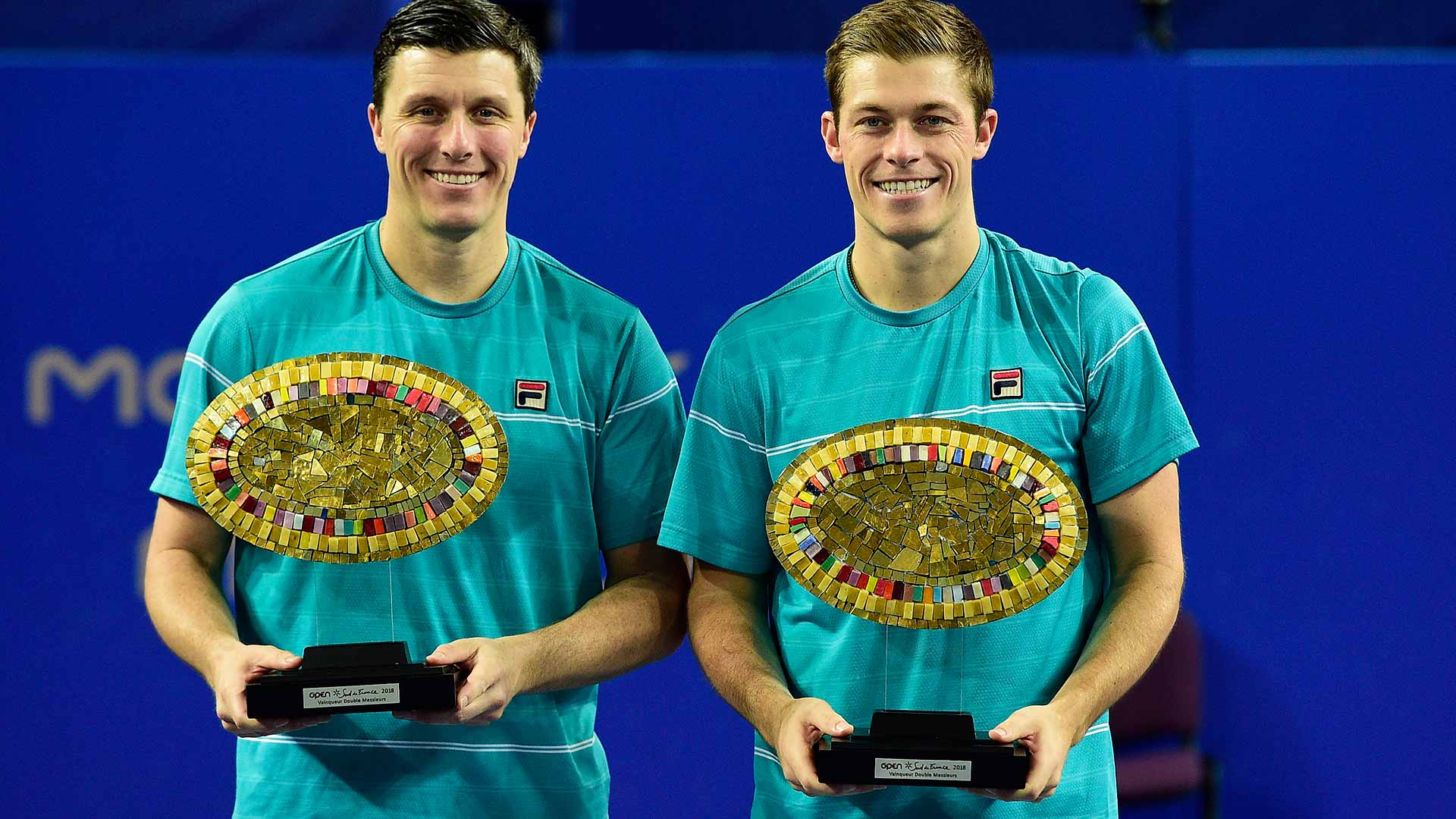 But Ken, as he puts it, is in the 'twilight' of his career. The British left-hander is 35 years old with three kids at home. Ken is No. 68 in the ATP Doubles Rankings, while Neal is No. 35, just four spots off his career-high. So if Neal is able to get into ATP Masters 1000 events and even ATP 500 tournaments, but Ken cannot because of his ATP Doubles Ranking, he is more than happy to support his brother from afar.
"It's always a dream, isn't it? Once you get to the idea of tennis potentially being a job, then you set serious goals of where you want to get to," Ken said. "When you're very, very young, to say you're going to be making money off the sport and still playing at 35, I'd sign up for it every day of the week."
And perhaps the best part of the experience is doing it alongside his younger brother. They were raised differently tennis-wise — Ken played junior tournaments every couple of weeks as a kid, while Neal only competed at four or five big events each year. Yet here they are, competing on the ATP Tour together.
"It is obviously nice to travel as a team, as brothers. It's better than traveling with someone you don't know on the Tour. Obviously he speaks the same language as me, likes the same things," Neal said. "We have a lot of advantages of being brothers and playing together."
"I can shout at him, he can shout at me and I don't take it personally," Ken said. "Some people can take offence to things, but I don't. If I'm not good enough on the day, I know it, he knows it and we move on from it, find a way to get better."
Ken's goal is to maintain his ATP Doubles Ranking as best he can so that he can still play with his brother, as he has no intentions of holding his brother back. The 2017 Wimbledon quarter-finalists want to make a deep run at another Grand Slam, potentially compete at the 2020 Olympics and continue progressing daily. Most importantly, they are in it not just as a pair, but as brothers.
"It is a fantastic thing that our family was able to get two brothers to play professional tennis and make a living out of the sport," Ken said. "These guys, the Bryans, they're in the same boat. They're not looking over their shoulder thinking their partner is maybe going to speak to another guy and go off to play other tournaments. They're in it for the long haul."
So are the Skupskis.